At this pivotal moment of changeover in MASS MoCA's highest level of leadership, it is crucial to set the tone in caring for our workforce. MASS MoCA's mission is to bring bold and new work to life while stimulating creativity and commerce in North Adams, Massachusetts. As staff members of MASS MoCA, we are dedicated to sustaining this legacy while advocating for the creation of an equitable, ethical, and inclusive work environment. The museum has experienced incredible growth in many ways since its original conception and, as a unionized workforce, we can help guide the museum as it moves into a new era of supporting artists, audiences, and employees. Through unionization, we can preserve what we love about the museum while envisioning new opportunities for an equitable and inclusive workplace — in terms of artistic work, compensation, benefits, safety, job security and more.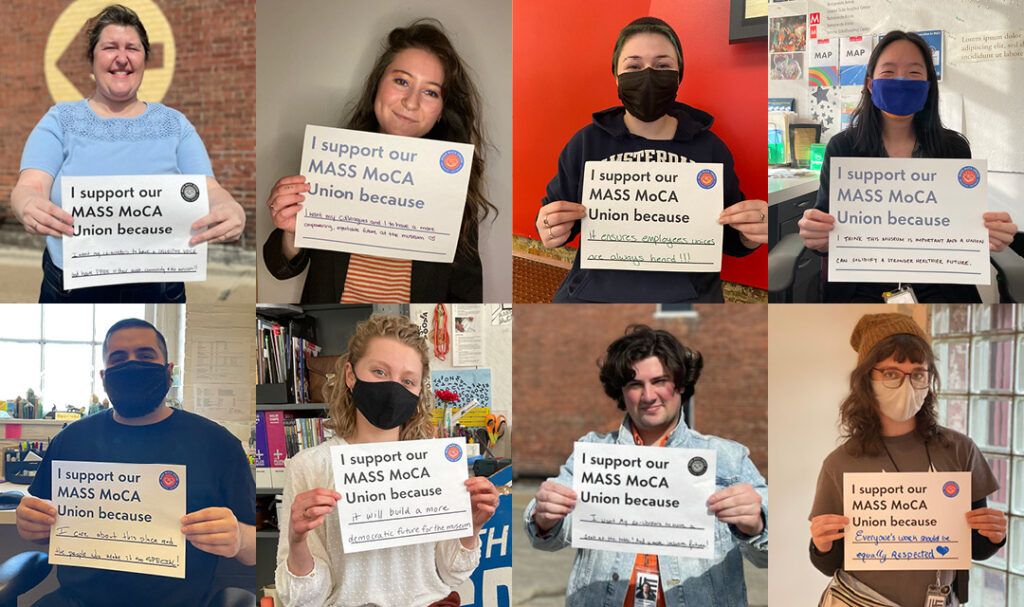 UPDATE – 08.05.22
Our bargaining committee has been at the negotiating table for nearly 11 months, and while many strides have been made, the Museum's wage offer remains insultingly low without any guaranteed increases for the 2nd and 3rd years of the contract, demanding that we return to the table each year to bargain, and they will not agree on fair language over fundamental workplace rights. We unionized because we are committed to our profession and believe in a more equitable Museum. As staff, our labor is vital to MASS MoCA and should be valued as such.
If you support MASS MoCA Union's fight for a fair contract, check out how you can show it on the "Show Your Support" page!
union negotiating committee
William Tavish Costello
Maro Elliott
Christopher Handschuh
Meghan Labbee
Isabel Twanmo
Allies
UAW Local 2110 Allies: Brooklyn Academy of Music Union, Children's Museum of the Arts Union, Film at Lincoln Center Union, Maine Portland Museum of Art Union, MFA Boston Union, MoMA Local 2110, New Museum Union, Tenement Museum Union
Arts Union Allies: Arts Workers Union, IUOE Local 30 @ MoMA PS1, Marciano Art Foundation Union, MOCA Union, New Children's Museum Union, Philadelphia Museum of Art Union, United Museum Workers